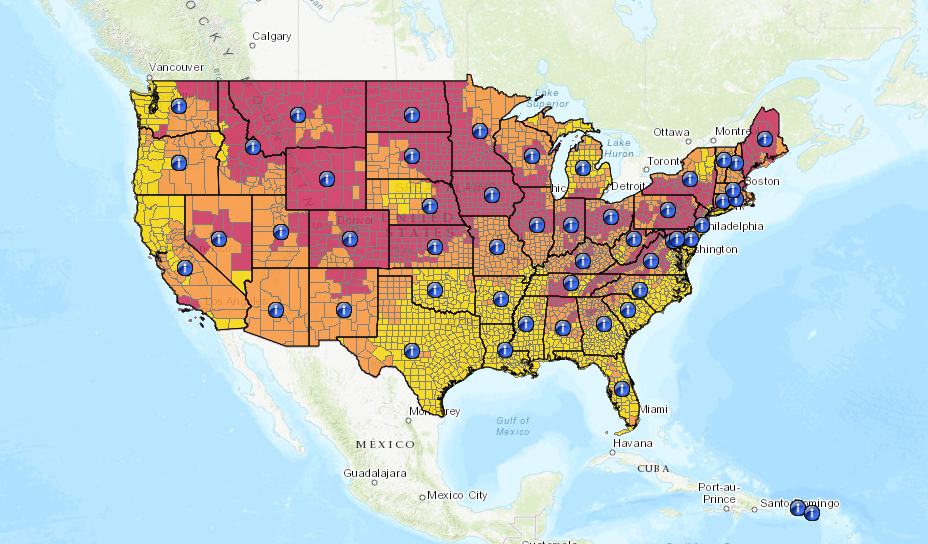 January is National Radon Action Month, however, we will post regular reminders and updates about this harmful gas throughout the year.
Below, we have answered some common Radon-related questions, and we were also able to meet up with a Radon expert, Malcolm Godwin, owner of Chattanooga Home Inspector.

Radon is the natural decaying of Radium and Uranium underneath the earth's surface. | Info: Malcolm Godwin

Radon escapes the earth and gets into people's homes where the air is stagnate and as we breathe it in, it destroys our lungs.

| Info: Malcolm Godwin
Your home traps Radon inside, where it can build up. | Info: Malcolm Godwin
Radon is the second leading cause of lung cancer second only to cigarette smoke, and it kills an estimated 22,000 people a year. | Info: Malcolm Godwin
The EPA places Hamilton County in the moderate Zone 2 (Zone 2: levels from 2 to 4 and greater have been found in this area). | Info: EPA's Website
Radon problems can happen in new construction as well as old. | Info: EPA's Website
Radon testing is fairly new to this area. If you've been living in a house for years, you should check for Radon, even if you're not thinking about selling. | Info: Sarah Brogdon
The EPA suggests testing every two years in opposite seasons like spring in one year and fall two years later. | Info: Malcolm Godwin

Even if your test result is below 4 pCi/L, you may want to test again sometime in the future.

| Info: EPA's Website

EPA has been recommending for years that homeowners should also consider fixing their homes when the radon level is between 2 and 4 pCi/L.

| Info: EPA's Website
Weighing in on this conversation, Malcolm Godwin, owner of Chattanooga Home Inspector, lets us know that, "although we (Chattanooga Home Inspector) were not the first company in Chattanooga that offered testing, we have been a large fighting force bringing education to the area. We also use the most state of the art measuring tools called Corentium Pro Airthings Continuous Radon Monitors. Radon is very common in the north and midwestern states, so people moving to Chattanooga from those areas of the country are already familiar with it and its dangers." Chattanooga Home Inspector has been tracking high and low levels of Radon in the area and have provided the following map for our clients to check out.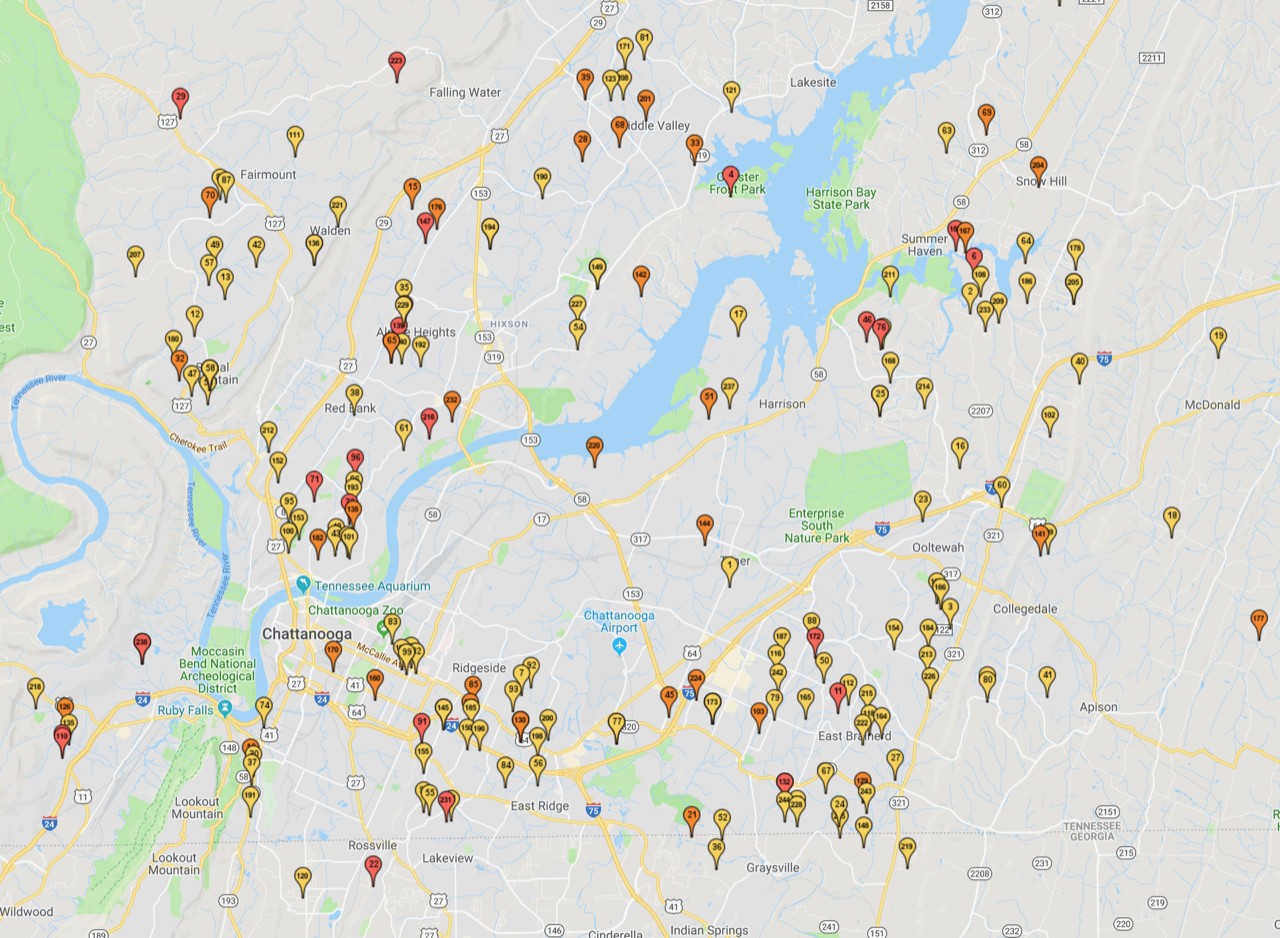 Above Image Provided By: Chattanooga Home Inspector
During our conversation, we asked Malcolm if a home located near a water source (like a river) might show higher levels of Radon. Here's what he said, "The location of the home being near the water does not have an affect on Radon levels, nor does the fact that the home may have natural gas or propane. Again feel free to check out our map (above), the map is color-coded, yellow meaning levels were measured below 2.0, orange is where levels were measured between 2.0 to 3.9, red indicates levels measured above 4.0."
According to Malcolm, "Radon mitigation typically costs about $1,700 to $2,000. Since Radon is a low-lying dense gas it is removed from the lowest level. With a slab or basement home, a hole is drilled through the concrete and piping goes in with a fan that runs 24 hours a day 7 days a week and discharges the gas outside of the house safely. In a house with a crawlspace, it's a little more complicated because a vapor barrier has to be installed and taped closed to capture the gas correctly, then the same fan system is put into place."
If you're wondering how Radon tests work, Malcolm explains that "Radon levels are never a single number because the gas actually only has a three-day shelf life, so it depends on what materials are decaying underneath us and how much is getting into our homes. We measure on the hour every hour for 48 hours, then we average those together. Several environmental factors can affect Radon levels like the weather and nearby construction that can divert the current Radon gas flow. The EPA suggests testing every two years in opposite seasons, like Spring in one year and Fall two years later."
If you're curious about Radon levels throughout the rest of Tennessee, check out the map below.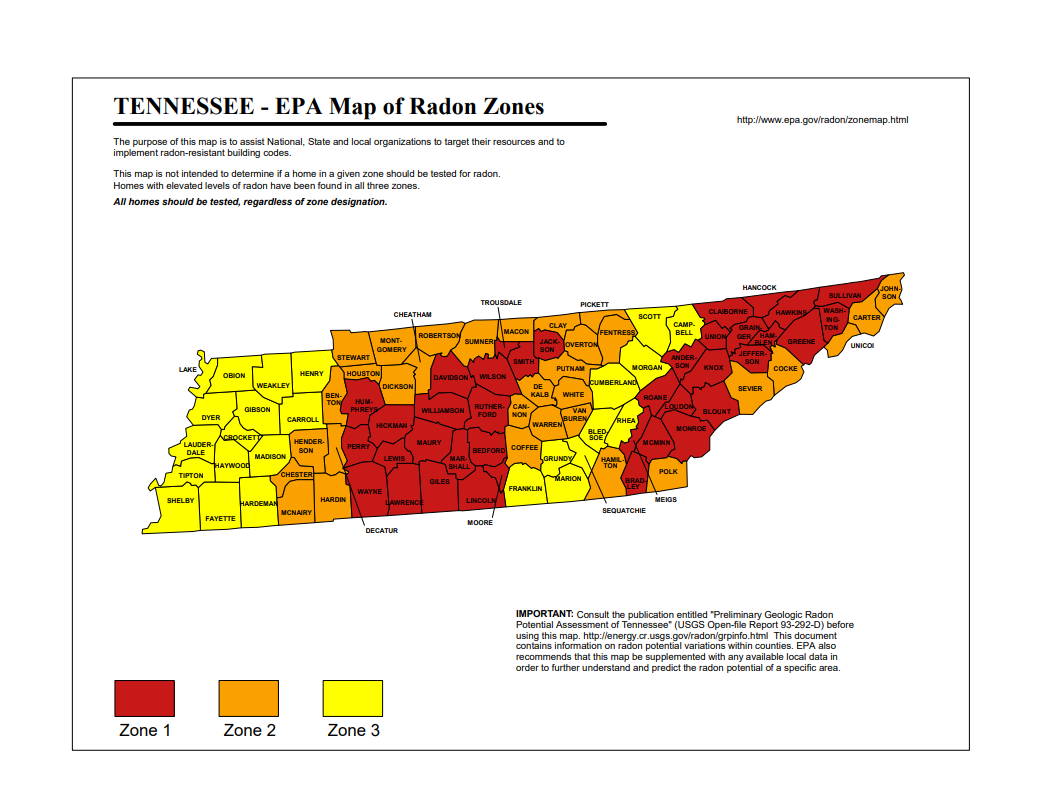 For more information about Radon, visit the EPA's website at epa.gov/radon. For access to state Radon information and contacts, visit this page on the EPA's website or their frequently asked questions page. You can also check out this helpful Radon video from Chattanooga Home Inspector, or schedule a Radon Inspection today with Chattanooga Home Inspector at (423) 202-9490.